How much does a cyber-attack cost? What are the consequences for the company? Is implementing a cyber policy cost-effective?
A report by Cybersecurity Ventures estimates that the cost of cybercrime is set to reach $10.5 billion by 2025. This alarming figure is justified by increased cyber-attack sophistication, particularly in the financial sector. Yet some companies are reluctant to invest in cybersecurity, fearing that the costs will be too high about the seriousness of the threats. Here's how.
How much does a cyber-attack cost?
The increase in the number and diversity of cyber-attacks makes it challenging to estimate company costs. These costs can be direct, affecting the company itself, or indirect, affecting partners and customers. These costs include:
The attack caused financial losses (disruption of service, mobilization of resources to resolve the incident, loss of customers, etc.);
Regulatory fines: the General Data Protection Regulation (GDPR) introduces financial penalties proportional to the turnover of companies that inadequately protect the data they process;
Litigation: some customers may file a complaint in the event of a data breach, incurring expenses for the company.
Other costs, such as damage to the company's reputation, are more challenging to determine.
Estimated figures
A statistical assessment by Asterès estimates the overall cost of cyberattacks in France in 2022 at 2 billion euros. This sum is divided into:

887 million euros in direct costs: loss of productivity, higher production costs, etc.
888 million euros paid in ransom
7 million euros equivalent to lost working hours
The average data breach cost in 2023 was $4.45 million, an increase of 15% in 3 years (Source: IBM).
The financial sector particularly affected
By handling a large amount of sensitive data in digitized spaces, financial institutions are particularly vulnerable and expose themselves to higher costs in the event of an attack.
Players in the financial sector face significant cybersecurity costs: staff training, technological security devices, audits, pentests, bug bounty, etc… Even if these costs are high, the financial consequences of a cyber-attack are too numerous to do without a solid cybersecurity policy. Losses due to data breaches, regulatory fines, litigation, and reputational damage are far more costly than implementing cyber measures.
Cybersecurity as a strategic investment rather than an expense
Implementing a cybersecurity policy is about more than prevention. It also brings benefits to the financial sector. It can be seen as an investment rather than an expense.
A method for complying with regulations and industry standards
The financial sector is subject to strict regulations on data protection and information systems security. Financial players ensure compliance with regulatory requirements such as the RGPD and the DORA Regulation in the European Union or PCI DSS standards for card payments by investing in cybersecurity.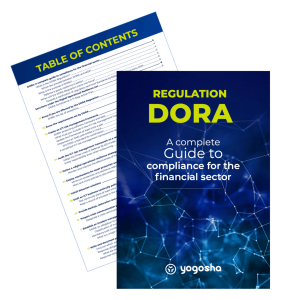 DORA: A complete guide to compliance for the financial sector
A 50-page guide to walk to walk CISOs, DPOs and legal departments through the EU regulation. No mumbo jumbo, only useful and actionable insights.
GET THE E-BOOK!
Helping to protect your company's reputation and preserve customer confidence
Customer reputation and trust are essential for financial players. Customers need to know that their personal and financial information is safe. Cyber-attacks can cause irreparable damage to a company's reputation, resulting in the loss of existing customers and difficulty in attracting new ones. Investing in a robust cyber security policy demonstrates a financial institution's commitment to protecting customer data and helps to build customer trust.
A way to effectively manage security incidents
Despite the number of cyber measures in place, it is crucial to be prepared to react in a security incident. A well-managed cybersecurity policy anticipates such incidents by preparing specific management plans. Such preparation makes it possible to:
Reduce downtime after an incident;
Damage limitation;
Resume regular business activity more quickly;
Maintaining customer confidence.
A differentiating advantage over the competition
Cybersecurity can be a major competitive advantage for financial players. A company can attract new customers and business partners who seek trusting relationships by demonstrating high security and data protection. Some contracts and partnerships even require organizations to demonstrate compliance with security standards. Investing in cybersecurity can open new business opportunities and strengthen a company's market position.
Yogosha: OffSec for your cybersecurity
For financial institutions, cybersecurity is not simply a cost but a profitable and necessary investment to protect their assets, gain or maintain customer confidence, and comply with applicable regulations.
Yogosha supports players in the financial sector. As a specialist in Offensive Security (OffSec), we offer a variety of approaches to security testing:
Pentest as a Service: a security audit launched in less than a week for a fixed price. Uncover most of the vulnerabilities in a product and assess its security level at a given time, or plan several pen tests throughout your development cycle as part of a DevSecOps approach.
Bug bounty: an in-depth vulnerability hunt with the security researchers of the Yogosha Strike Force. Identify the most critical vulnerabilities with a pay-for-results logic. No vulnerabilities = no expenses: you're only rewarded for exploitable results.
Read also: Penetration Test vs Bug Bounty, which approach is right for you?
Reduce your vulnerabilities and benefit from the added value of a tailor-made cybersecurity policy. Get in touch with us!