Pentest as a Service (PtaaS)
Launch pentests agilely and continuously across your SDLC
Assess your assets' digital security and reduce their likelihood of being compromised. What is Pentest as a Service?
Test your assets' digital security
Penetration testing as a service (PtaaS) is a technical security audit that enables organizations to deploy a small team of skilled security researchers to test the robustness of their assets and meet compliance.
Why PtaaS?
Traditional pentesting is no longer suited to organizations' modern development cycles, nor to the rapid growth of digital threats. Old-school pentests lack flexibility, cost-effectiveness and firepower.
That's where Pentest as a Service comes in.
It's like the pentest you're used to, but better.
Agile and point-in-time security testing
With a hacker mindset
With PtaaS, you can test your assets on-demand and at any time across your SDLC. Our pentests are agile and adapted for DevSecOps, whether you're looking to test assets before a release or live in production.
Work with top performing security researchers only

Launch tests within days, not weeks

Agilely launch multiple pentests all year long
Additional benefits of PtaaS
More reasons to go with Yogosha
Security researchers continuously monitor your assets and use the latest tools, tactics and procedures (TTPs) to find critical and complex vulnerabilities.
Find critical vulnerabilities and get remediation guidance

Assess your assets' risk profile periodically

Helps for compliance and legal requirements

Showcase robustness of your products to your clients / investors
Uncover critical vulnerabilities
By getting access to the right security researchers, you increase the odds in finding critical vulnerabilities.
Expert advice for better results
Our dedicated team accompanies you along your Offensive Security journey for expert advice and optimized results.
Obtain and leverage pentest certification
A certificate is delivered after each pentest. Use it to promote your security policies to your partners & clients.
The Yogosha Strike Force
800+ security researchers
Vetted and highly skilled
Only 10% of applicants are accepted into the Yogosha Strike Force (YSF). Our security researchers passed a technical and redactional test — which makes for clear and fully documented vulnerability reports. They're also ID checked, and signed T&Cs with an NDA.
Skilled in multiple asset types:
Possess certifications such as:
Pentesting management made easy and secure
The VOC
Vulnerability Operations Center
Get notified of critical vulnerabilities

Real-time overview of risk exposure

Accelerated remediation

Vulnerability retest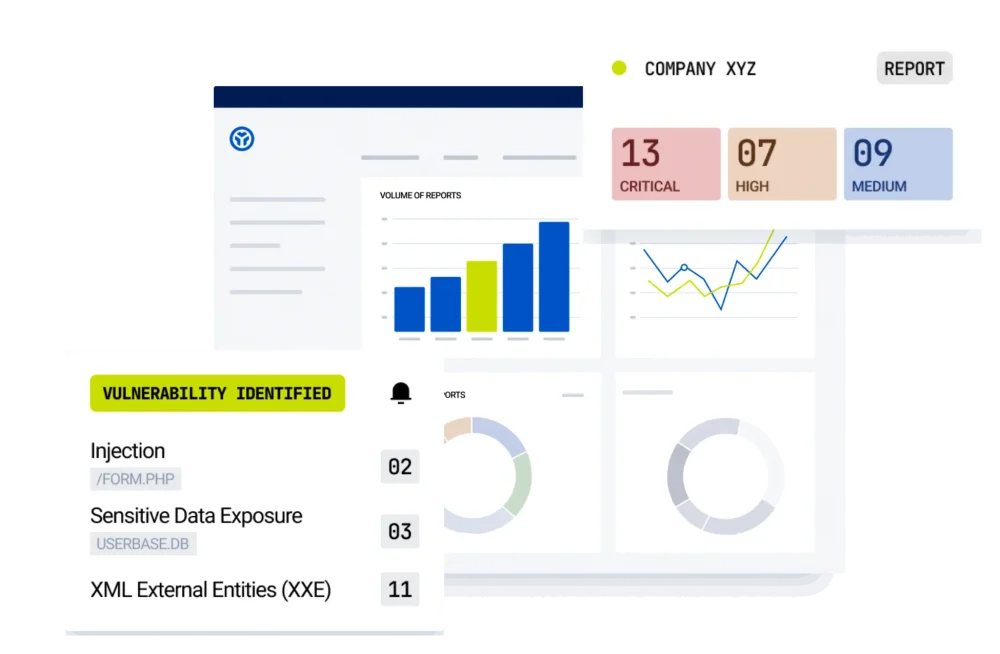 Ready to pentest your assets?
Uncover vulnerabilities, fortify your defenses, and stay one step ahead of cyber threats.